Join Dr. Castilla's Mailing List
Receive helpful tips for creating and maintaining a beautiful smile for life!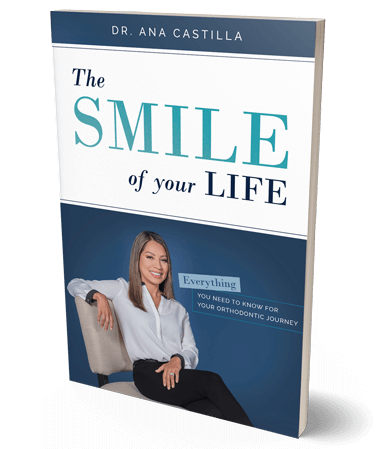 Every Journey Needs A Great Guidebook!
The idea of orthodontic treatment can be daunting, and with so much unreliable information out there, you can easily end up overwhelmed and confused. Orthodontics expert, Dr. Ana Castilla is here to help. She wrote The Smile of your Life to give patients a one-stop, trustworthy reference for their smile journey.
Dr. Castilla begins by sharing with readers her personal journey to a beautiful smile and ultimately a career in orthodontics. She explains the impact her new, straight smile had on her confidence, self-image, and overall happiness. In addition to learning about Dr. Castilla's insightful and inspiring journey to success, readers will learn:
What to look for when shopping around for an orthodontist
What to look for when shopping around for an orthodontist
When and why to start orthodontic treatment
How adults can also create the smile of their dreams
The different options for financing your treatment
What to expect during and after treatment
A beautiful smile is so much more than just straight teeth it can truly change your life. Your smile is part of the image you present to the world, and it has the potential to open many doors. The Smile of Your Life is the first step on your journey to better health and beaming confidence!
Purchase Yours Today!
Download A Free Chapter
Fill out the information below to receive your free chapter of the book The Smile of Your Life by Dr. Ana Castilla.
TAKE THE ASSESSMENT
Ready for the Smile of Your Life?
Take Dr. Castilla's free quiz to see if orthodontics could help you gain the glow you're looking for!