Join Dr. Castilla's Mailing List
Receive helpful tips for creating and maintaining a beautiful smile for life!
Meet Dr. Ana Castilla
Orthodontic Expert | Author | Speaker
Ana Castilla, DDS, MS is a board-certified, Oregon-based orthodontist and international educator. She has dedicated her life to creating beautiful smiles and educating others about the life-changing effects of orthodontics. She is the owner and president of Castilla Orthodontics and is passionate about helping patients attain their perfect smile, so they can live their life to the fullest.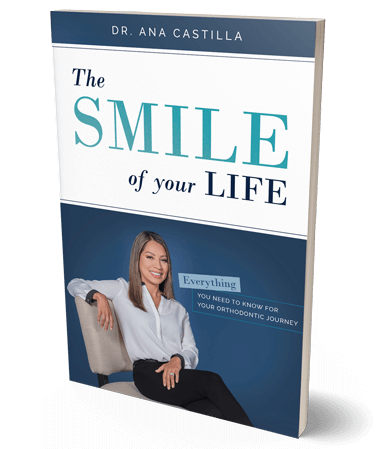 The Smile of Your Life
Everything You Need to Know for Your Orthodontic Journey
The idea of orthodontic treatment can be daunting, and with so much unreliable information out there, you can easily end up overwhelmed and confused. Orthodontics expert Dr. Ana Castilla is here to help.
Her book, The Smile of Your Life, gives you a one-stop, trustworthy reference for your smile journey. A beautiful smile is so much more than just straight teeth, it can truly change your life. This must-have guide is your first step on a journey to better health and beaming confidence!
Purchase your copy today!
"Getting a beautiful smile should be easy. It should not interrupt people's lives."
BOOK DR. ANA CASTILLA TO SPEAK
A Highly Skilled Speaker
Dr. Ana Castilla is passionate about educating others, especially consumers, on the latest in orthodontic treatments and their power to change lives. Along with her electric presence, Dr. Castilla brings her extensive industry knowledge as well as a compelling and inspiring backstory that allows her message to compel and resonate with audiences all around the US.
CONSULTING
Learn From Dr. Ana Castilla
Dr. Ana Castilla offers consulting services and teaching experiences for orthodontists and their staff. Dr. Castilla not only enjoys educating consumers, but fellow professionals as well. She is extremely passionate about sharing her message and knowledge with others.
TAKE THE ASSESSMENT
Ready for the Smile of Your Life?
Take Dr. Castilla's free quiz to see if orthodontics could help you gain the glow you're looking for!